Slave children: The back door
book+exhibition+documentary
What happens after a child in slavery escapes? How are their broken childhoods rebuilt? Is there a way out?
This documentary project documents the experience of thousands of children who are bought and sold as slaves in West Africa, the region with the world's highest rate of child labour. Her work shows that there is a way out for these victims of modern slavery, a "back door" which some of them manage to find, open and step through to live their lives in freedom.
*In collaboration with: Salesian Missions, the Carmelite Sisters of Charity Vedruna and Mensajeros de la Paz.
Big thank you to UNICEF that has collaborated in the photo exhibition.
**The project is supported by: Grupo Henneo, Gesplaza 14, Fundación Tervalis, Anagán, Fundación Kyrene, Fundación Mémora and Saphir Parfums.
Big thank you to Deluxe Spain that has supported the film documentary.
Child Slavery in Figures
152 million child slaves in the world today.
72 million of which are in Africa, primarily in Sub-Saharan countries.
19,6 % of African minors–one out of every five–live in some form of slavery, the highest prevalence of child labour in the world.
50 % of the world's 152 million child slaves are between the ages of five and eleven, according to the 2018 statistics of the International Labour Organization (ILO).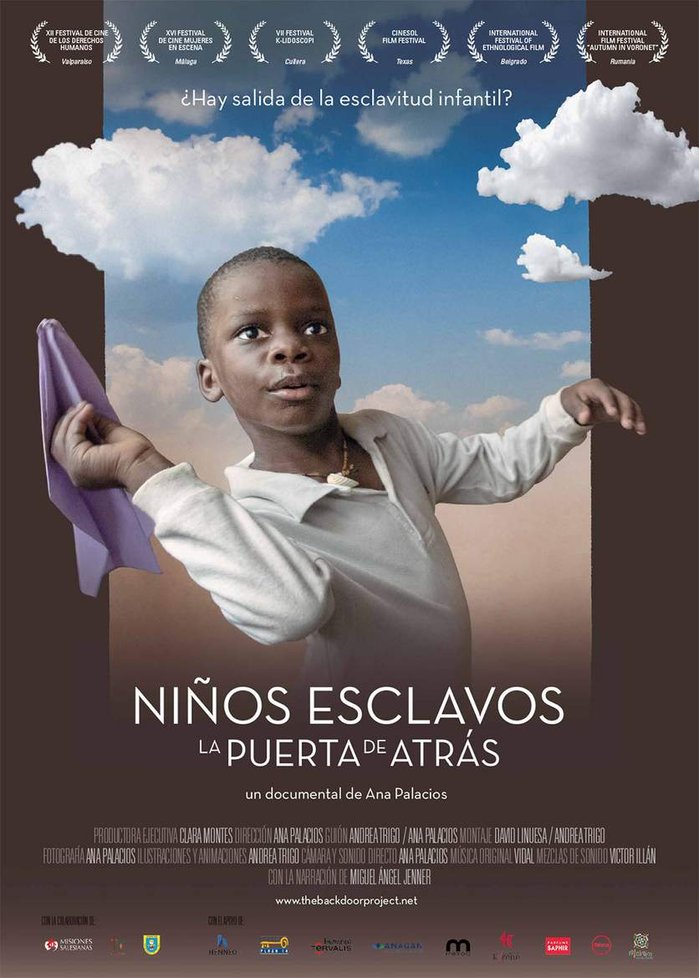 Watch next video ►
Slave children: the back door.
Documentary Trailer
Photography and video
Ana Palacios
Trailer Editor
Iván Castell
If you have made it this far and you enjoyed the "Slave children: The back door", you should know there is an exhibition available of this project.
Please feel free to contact me@ana-palacios.com for further details.
If you wish to know more about the NGO's that support the project, you can find their details here.